WE EMBRACE FLAVOURS AND INGREDIENTS FROM AROUND ASIA AND THE WORLD
Around the globe, Mott 32 has won over 100 awards for its food, drinks and design. Our chefs utilise the latest in modern, innovative cooking techniques and the best ingredients from around the world to create our dishes which are principally Cantonese with Beijing and Szechuan influences. We bring the best out of time-honoured recipes passed down from generation to generation; it is this level of modernity, combined with a respect for tradition, that makes Mott 32 so spectacularly unique.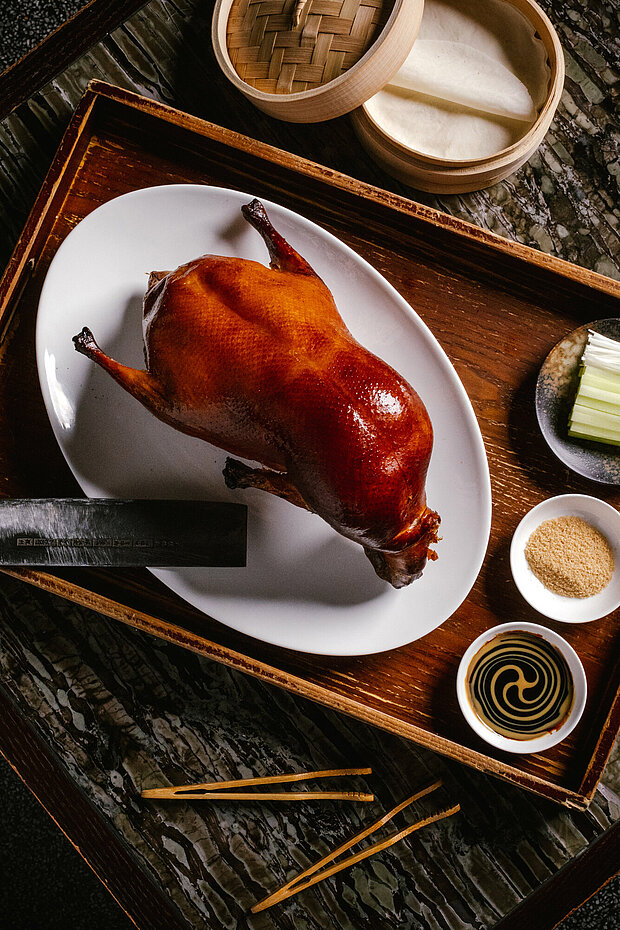 APPLEWOOD ROASTED PEKING DUCK
北京片皮鴨 (蘋果木燒)
Widely acknowledged as the "Best Peking Duck in Hong Kong" this is one of the key culinary signatures of Mott 32 Worldwide. Mott 32 has carefully sourced and selected the best ducks to create the most flavourful and perfectly crispy duck.
Mott 32's Signature 42 day Apple Wood Roasted Peking Duck is carved using a unique technique developed by our Culinary Team that locks in all the juices making it a true feast fit for royalty as it was intended. It is served tableside with freshly steamed pancakes, thinly sliced cucumber, scallions, raw cane sugar, and house-made special hoisin sauce; the juicy cucumber will allow a refreshing lift as you bite into the crispy, moist, and smoky duck skin.
Available by pre-order only and recommended for around 3-4 guests.

BARBECUE IBERICO PORK WITH YELLOW MOUNTAIN HONEY
蜜汁頂級西班牙黑毛豬叉燒
Our Barbecue Iberico Pork with Yellow Mountain Honey uses premium ingredients to recreate a Chinese classic.
Each cut of pork comes from top-grade Iberian pigs that are raised on a diet of acorns, grass and herbs, giving the meat a soft and succulent quality that is further emphasised by the traditional roasting methods employed by our barbecue chefs. A light glaze of Yellow Mountain Honey is brushed over the pork to finish, adding a final sweet and rich touch.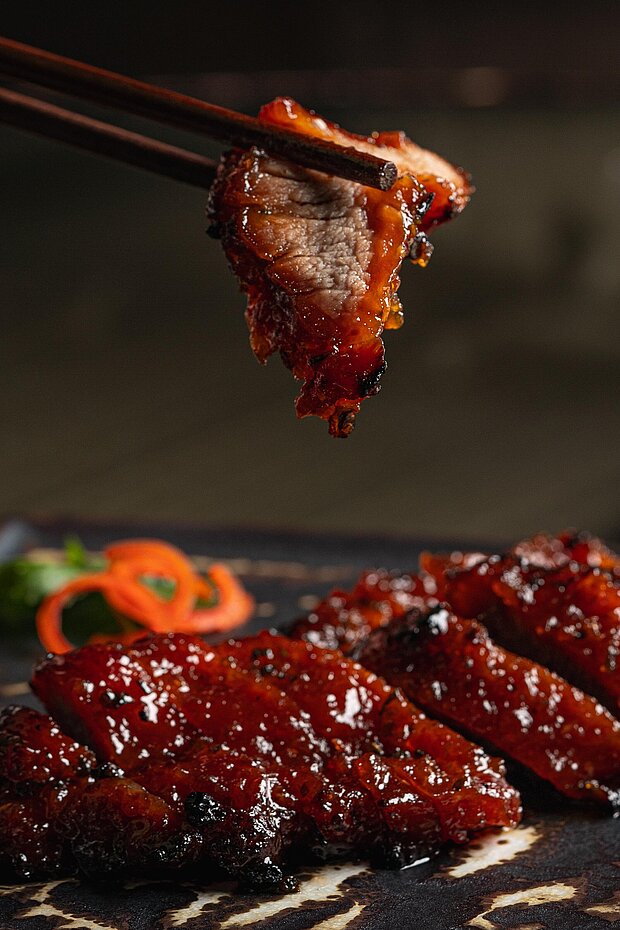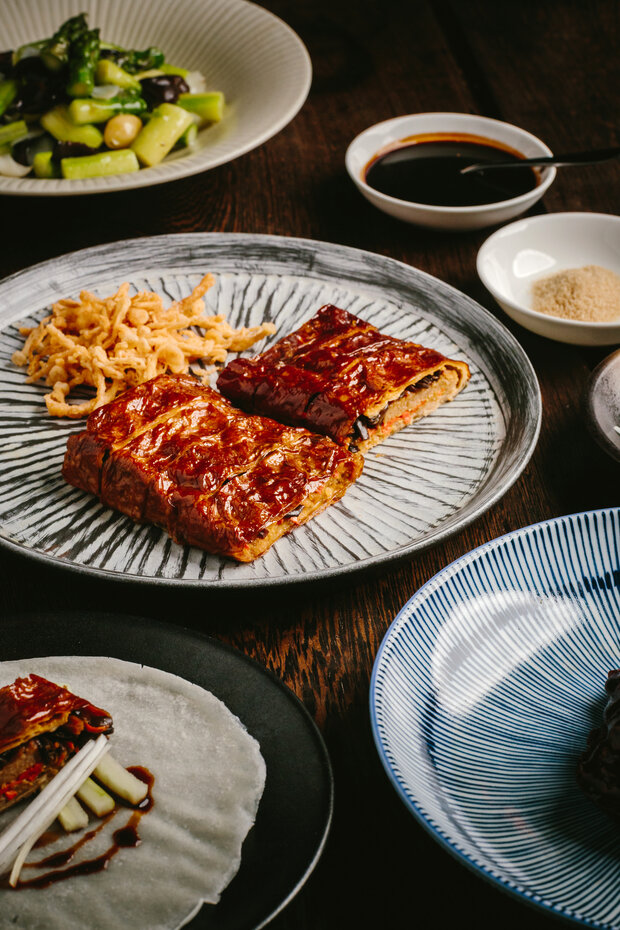 PLANT-BASED ALTERNATIVES
Mott 32 is committed to sustainability and proud to be the one of the first Chinese fine-dining restaurants to offer plant-based alternatives to many of their signature dishes including flavourful Shanghainese Soup Dumplings made with Minced "Pork" and Tofu, as well as the restaurant's Signature Smoked "Cod".
Created with plant-based alternatives, these vegetarian and vegan adapted versions are the result of months of research and development by the Mott 32 culinary team, showcasing delicious and sustainable alternatives that do not compromise on taste or flavour.
DIM SUM
Our dim sum chefs source ingredients from all over the world to recreate traditional recipes using modern and creative cooking techniques. Chef Lee has captured Hong Kong's attention with his soft-boiled quail egg, cleverly placed inside an iberico pork Siu Mai with black truffle. This small but powerful bite perfectly encapsulates Mott 32's commitment to reconceptualising classic Chinese recipes.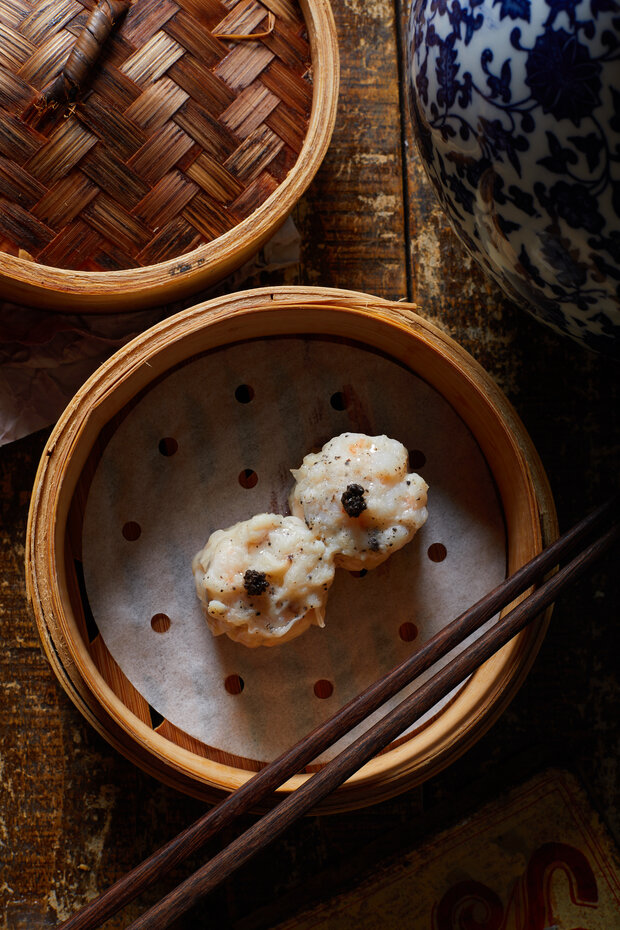 燒味 BBQ
---
42天飼養北京片皮鴨 (蘋果木燒) Apple Wood Roasted Peking Duck "Mott 32 Cut"
42天飼養北京片皮鴨 (蘋果木燒) 配特級黑魚籽醬 (30g) Signature Apple Wood Roasted Peking Duck "Mott 32 Cut", Parisian Oscietre Caviar (30g)
蜜汁頂級西班牙黑毛豬叉燒 (每天限量) Barbecue Iberico Pork, Yellow Mountain Honey (limited daily)
市場海鮮 Market Seafood
---
龍蝦配麻婆豆腐 Signature Lobster "Ma Po Tofu"
宮保南澳龍蝦 Per 100g Kung Pao South Australian Lobster, Cashew Nut, Chili
避風塘炒蟹 原隻 (whole) Fresh Whole Crab, Golden Garlic, Chili
淸蒸原條東星斑 900g / 1200g Whole Leopard Coral Garoupa, Steamed with Ginger
煙燻黑鱈魚 Signature Smoked Black Cod
醬燒明蝦球 King Prawns, Chinese Rice Wine, Vinegar, Chili
肉 Meat
---
京蔥燒A5神戶牛柳辣豆醬 Japanese Kobe Beef A5+, Grilled Leeks, Homemade Black Bean Paste, Garlic Chips
醬烤三弄和牛肋骨 Crispy Triple-Cooked Wagyu Beef Short Rib
四川辣子雞 大 (large) / 小 (small) Free-Range Chicken, Szechuan Red Peppercorns, Dried Chili, Cashew Nuts
中式甜品 Classics / 甜品 Dessert
---
棉花蛋白杏仁茶 每位 Almond Cream Soup, Egg White Marshmallow
Bamboo Green Forest
菠蘿杞子蛋白脆 Pineapple White Chocolate Pavlova, Goji Berry
鐵觀音杏仁朱古力小籠包 Almond & Chocolate, Oolong Tea "Xiao Long Bao"
前菜 Starters
---
椒鹽鮮魷粟米芯 Fried Squid, Crispy Baby Corn, Salt & Pepper
北京烤鴨絲沙律 Shredded 42 Days Peking Duck Salad, Beetroot, Crispy Taro, Citrus Truffle Dressing
黑松露伴走地雞 Cold Free-Range Chicken, Coriander, Black Truffle
椒鹽鮮鮑魚仔 Whole Crispy Abalone, Salt & Pepper
晚市點心 Evening Dim Sum
---
原味鮮肉小籠包 Traditional Iberico Pork Shanghainese Soup Dumplings
4件 (4 pcs)
金腿龍蝦粿 Lobster Har Gow, Yunnan Ham
1件 (1 pc)
黑豚肉松露鵪鶉蛋燒賣 Soft Quail Egg Siu Mai, Iberico Pork, Black Truffle
2件 (2 pcs)
黑魚子翡翠帶子餃 Scallop Dumplings, Spinach, Prawn, Caviar 3件
(3 pcs)
菜類 Vegetable
---
芹香百合炒蘆筍 Sautéed Asparagus, Celery, Lily Bulb
魚香茄子煲 Braised Eggplant, Minced Pork, Chili
Wok-Fried Kale, Dried Shrimp, Minced Pork, Shrimp Paste
乾煸和牛鬆四季豆 Sautéed String Beans, Diced Wagyu Beef
飯麵 Rice & Noodles
---
砂鍋龍蝦飯 Signature Lobster Fried Rice, King Oyster Mushrooms, Edamame
揚州八寶炒飯 Yeung Chow Style Fried Rice, Diced Sea Cucumber, Prawn, Iberico Pork, Carrots, Asparagus
乾炒安格斯牛河 Wok-Fried Flat Rice Noodles, US Black Angus Beef, Bean Sprouts
阿拉斯加蟹肉飛魚籽炒飯 Alaskan Crabmeat Fried Rice, Flying Fish Roe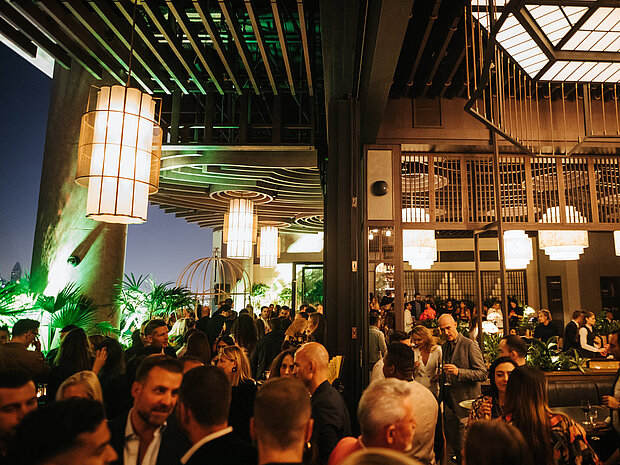 There are endless ways to celebrate special moments with personalised experiences at Mott 32.
For that unforgettable event, you need a suitable venue. With a unique and diverse range of venues around the world, the events team at Mott 32 can help you find the ideal setting for your special occasion. Whether it's a cocktail party, gala dinner, product launch, fashion show, bridal shower, business meeting or simply a birthday party. From an entire venue buy-out to exclusive hire of a private and semi-private dining rooms, Mott 32 has a space to suit you.