AUTHENTIC ASIAN FLAVOURS CREATED WITH TIME HONOURED TRADITION
OUR CUISINE
Mott 32's chefs utilise the latest in modern and innovative cooking techniques from around the world to create dishes, which are principally Cantonese with some Beijing and Szechuan influences. Featuring locally sourced fresh seafood, homemade dim sum, the finest Kobe and Wagyu beef, Iberico pork and 42-day Apple Wood Roasted Peking Duck, cooked in a custom industrial duck oven.
Wherever possible, Mott 32 sources organic and sustainable ingredients, working closely with local farms and suppliers to ensure uncompromising quality. The food aims to bring the best out of time-honoured recipes passed down from generation to generation, it is this level of modernity, combined with a respect for tradition, that makes Mott 32 so spectacularly unique.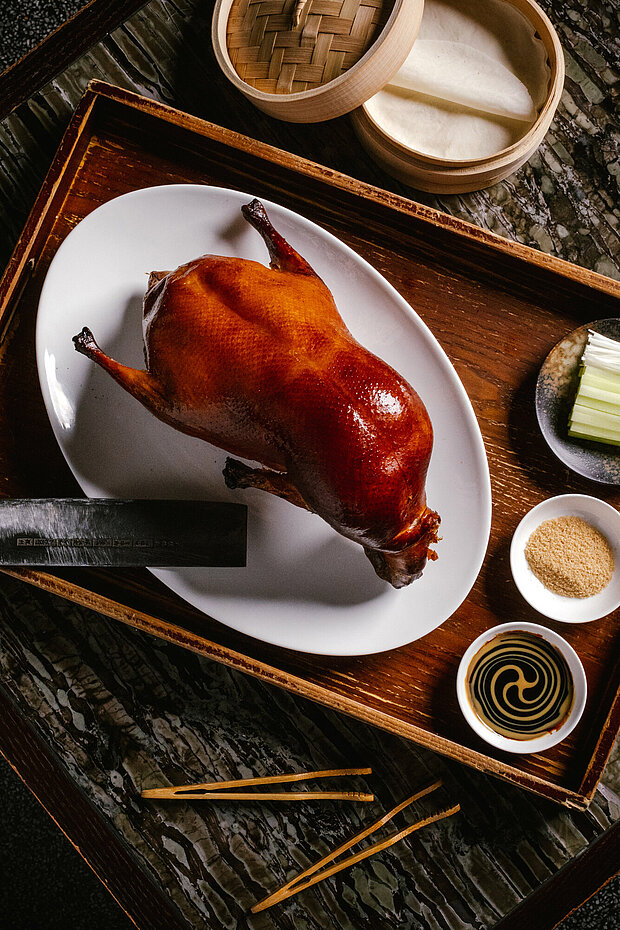 APPLEWOOD ROASTED PEKING DUCK
北京片皮鴨 (蘋果木燒)
Widely acknowledged as the "Best Peking Duck in Hong Kong" this is one of the key culinary signatures of Mott 32 Worldwide. Mott 32 has carefully sourced and selected the best ducks to create the most flavourful and perfectly crispy duck.
Mott 32's Signature 42 day Apple Wood Roasted Peking Duck is carved using a unique technique developed by our Culinary Team that locks in all the juices making it a true feast fit for royalty as it was intended. It is served tableside with freshly steamed pancakes, thinly sliced cucumber, scallions, raw cane sugar, and house-made special hoisin sauce; the juicy cucumber will allow a refreshing lift as you bite into the crispy, moist, and smoky duck skin.
Available by pre-order only and recommended for around 3-4 guests.

BARBECUE IBERICO PORK WITH YELLOW MOUNTAIN HONEY
蜜汁頂級西班牙黑毛豬叉燒
Our Barbecue Iberico Pork with Yellow Mountain Honey uses premium ingredients to recreate a Chinese classic.
Each cut of pork comes from top-grade Iberian pigs that are raised on a diet of acorns, grass and herbs, giving the meat a soft and succulent quality that is further emphasised by the traditional roasting methods employed by our barbecue chefs. A light glaze of Yellow Mountain Honey is brushed over the pork to finish, adding a final sweet and rich touch.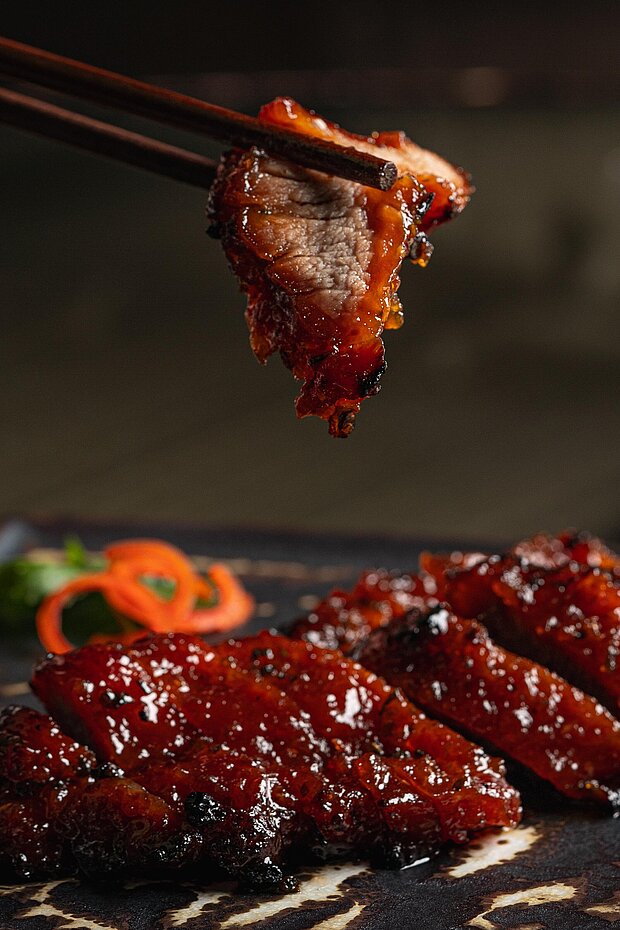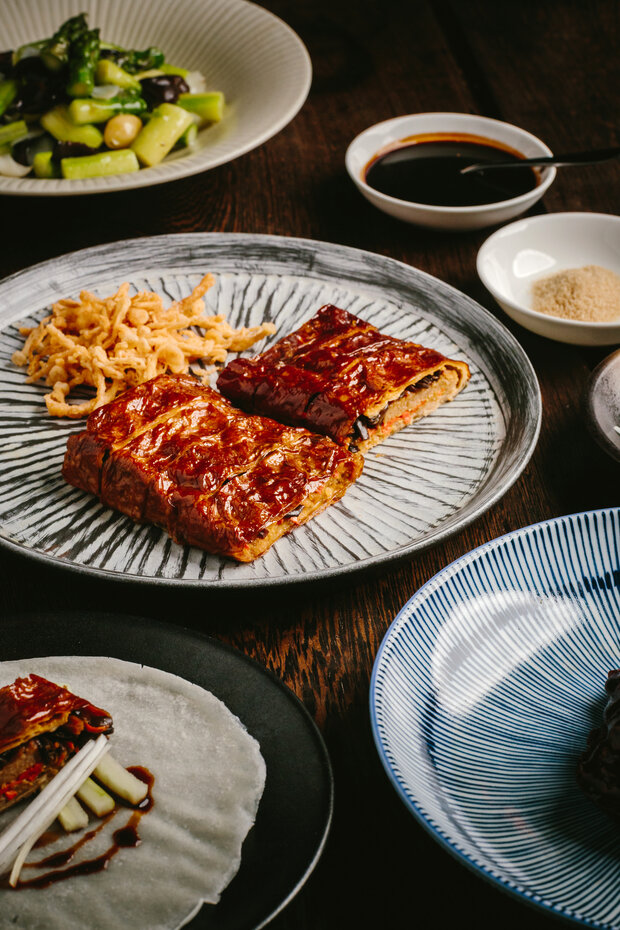 PLANT-BASED ALTERNATIVES
Mott 32 is committed to sustainability and proud to be the one of the first Chinese fine-dining restaurants to offer plant-based alternatives to many of their signature dishes including flavourful Shanghainese Soup Dumplings made with Minced "Pork" and Tofu, as well as the restaurant's Signature Smoked "Cod".
Created with plant-based alternatives, these vegetarian and vegan adapted versions are the result of months of research and development by the Mott 32 culinary team, showcasing delicious and sustainable alternatives that do not compromise on taste or flavour.
DIM SUM
Our dim sum chefs source ingredients from all over the world to recreate traditional recipes using modern and creative cooking techniques. Chef Lee has captured Hong Kong's attention with his soft-boiled quail egg, cleverly placed inside an iberico pork Siu Mai with black truffle. This small but powerful bite perfectly encapsulates Mott 32's commitment to reconceptualising classic Chinese recipes.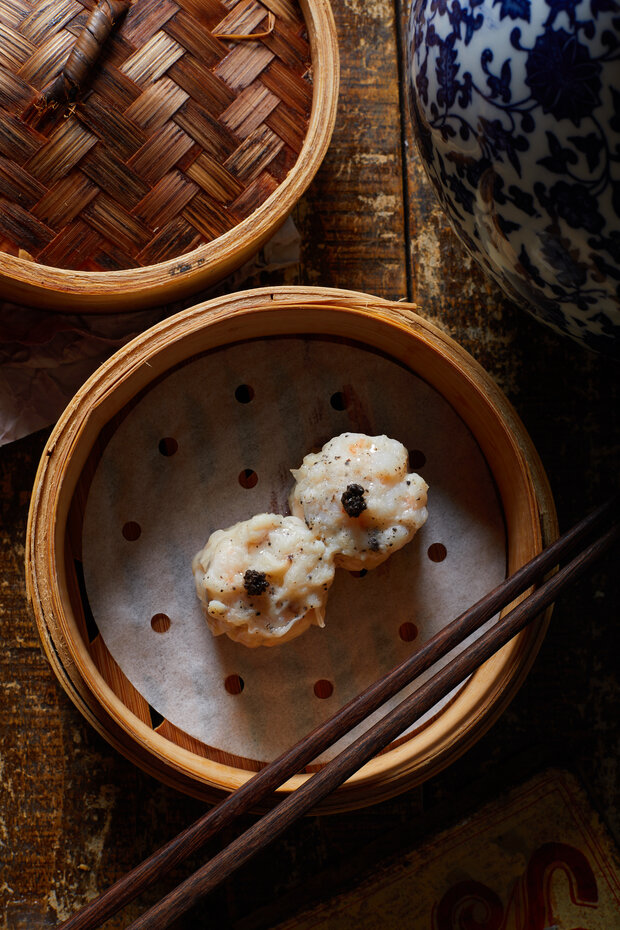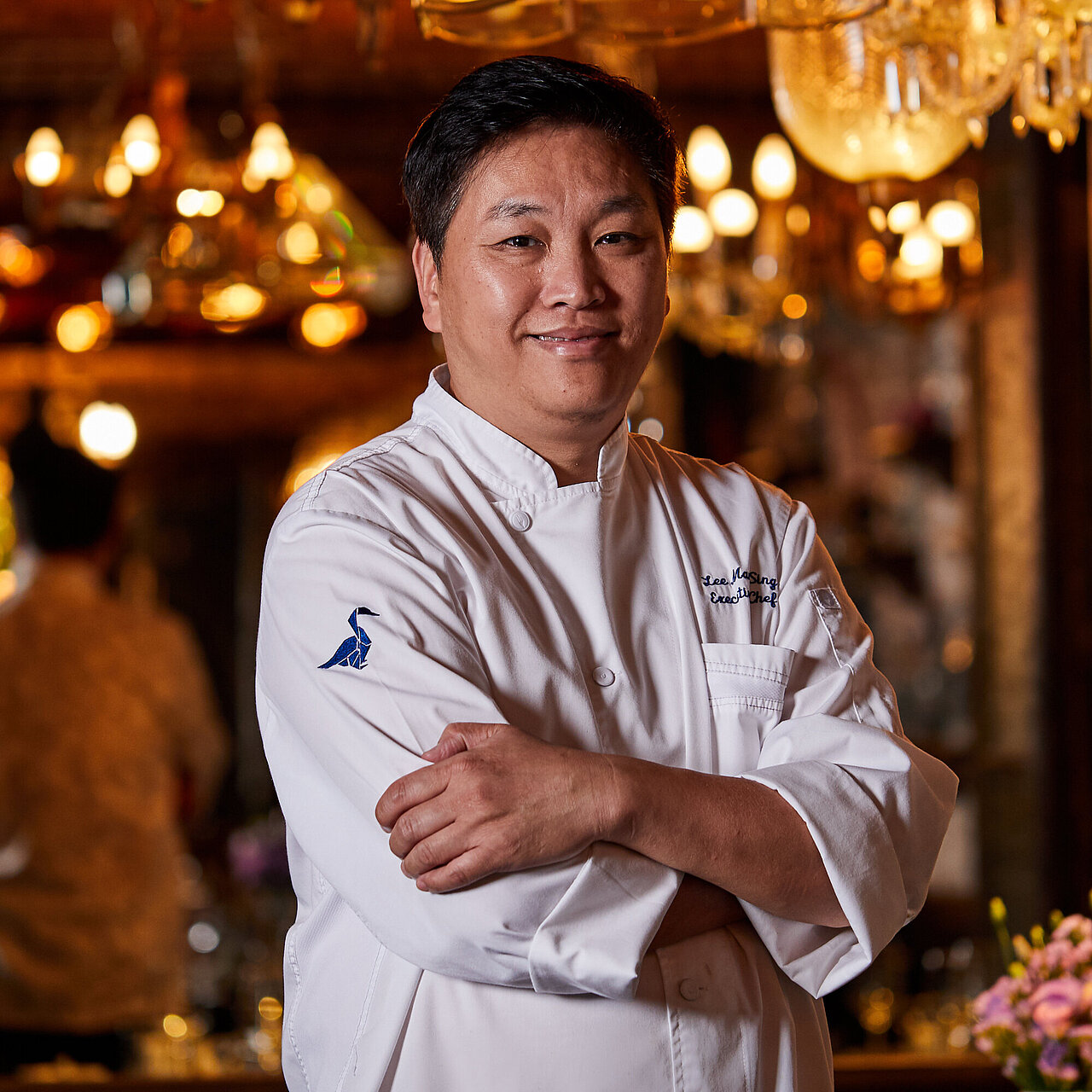 MOTT 32 GROUP EXECUTIVE CHEF
CHEF LEE MAN SING
Highly respected and well known within the Chinese culinary scene, Chef Lee Man Sing specializes in creating outstanding traditional Chinese dishes with western cooking techniques and elegant presentation.
Chef Lee graduated with distinction from the Chinese Culinary Institute while attending the exclusive Master Chef level class despite being one of the youngest in his class at the time. Prior to earning his first Michelin-star for Mandarin Oriental, Chef Lee cooked for celebrities, international heads of state and government officials. He worked at the Fortune Room at The Hong Kong Jockey Club and Hoi Yat Heen at the Harbor Grand Kowloon before becoming the Head Chef for the Mandarin Oriental Hong Kong where he helped created an outstanding Michelin-starred Cantonese menu in 2012 with traditional favourites and seasonal specialties.
There are endless ways to celebrate special moments with personalised experiences at Mott 32.
Mott 32 Hong Kong houses five private and semi-private dining rooms, a lounge and bar area and main dining room. The space can accommodate 170 guests for a seated event and 280 guests for a standing cocktail event. It's ideal for client dinners, intimate gatherings, cocktail receptions, celebrations, and corporate networking. For an entire venue buy-out to exclusive hire of a private or semi-private dining room, Mott 32 has a space to suit you.